I studied pre-clinical medicine at Cambridge University, 1962-65, receiving the Trinity Hall HR and Irene Dean Memorial Prize for Medicine in 1965; then at the Westminster Hospital Medical School for clinical training. I joined the Cambridge University Underwater Exploration Group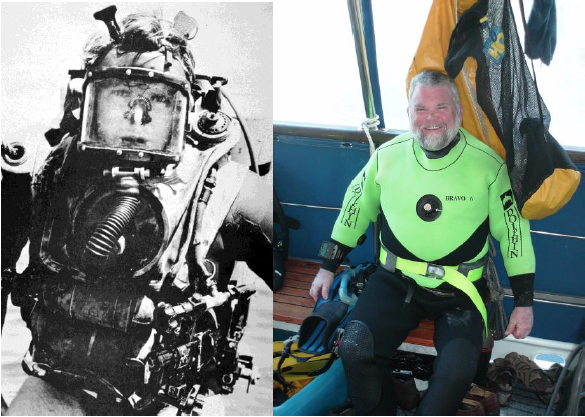 (CUUEG) in 1962 and I remained a passionately keen diver for 55 years, including being involved in diving research projects in various disciplines including diving physiology and medicine. I was Expedition Leader of a CUUEG team studying diurnal rhythms in marine invertebrates, who won the first ever BSAC/Duke of Edinburgh Award for Diving Science in 1965. Postgraduate speciality training was in anaesthesia and intensive care medicine at the Westminster and Royal Marsden Hospitals, London.
After working in Sweden and the USA, we immigrated to New Zealand in 1976, firstly to Auckland and then settling in Christchurch where, for 12 years, I was Senior Lecturer in Anaesthesia at the University of Otago at Christchurch. My MD thesis was based on clinical studies of anaesthesia for hip surgery. From 1979, Christchurch had a recompression chamber, for which I was Medical Director until retirement in 2009. Between 2004 and 2008, as Associate Professor of Medicine at the University of Auckland, I delivered a Level 7, distance-learning Postgraduate Medical Science Diploma in diving and hyperbaric medicine. In 2002, I was appointed Editor of the South Pacific Underwater Medicine Society Journal. This morphed into Diving and Hyperbaric Medicine (DHM) in 2007. Then in 2008, SPUMS and the European Underwater and Baromedical Society became joint publishers of DHM. During my watch as Editor, DHM obtained MedLine citation, became an e-journal and is now listed in PubMed Central. At the end of 2018, I retired as Editor, but remain on the Editorial Board. In 2019 I was appointed as an Honorary Senior Lecturer in the Department of Anaesthesiology at Auckland University.
 In 1969, I married Rosemary Ford, a beautiful fellow student at the Westminster. We have three children, now in their 40s, and six grandchildren. We live on a 30-acre property near Christchurch, growing hazelnuts and other produce organically in our retirement. Immigrating to New Zealand was the best decision that I ever made in my life, and Covid-19 has made it even more so!
Images are 1965 & 2008.